IVC, one brand for all​ commercial flooring solutions
IVC Group unveils its new brand for the commercial sector at BAU 2019 in Munich (14-19/01/2019). The complete collection of Carpet Tiles, LVT and Heterogeneous Vinyl are presented in hall A6, at stand 432. With IVC, IVC group focusses on architects, designers and project developers operating in the commercial sector.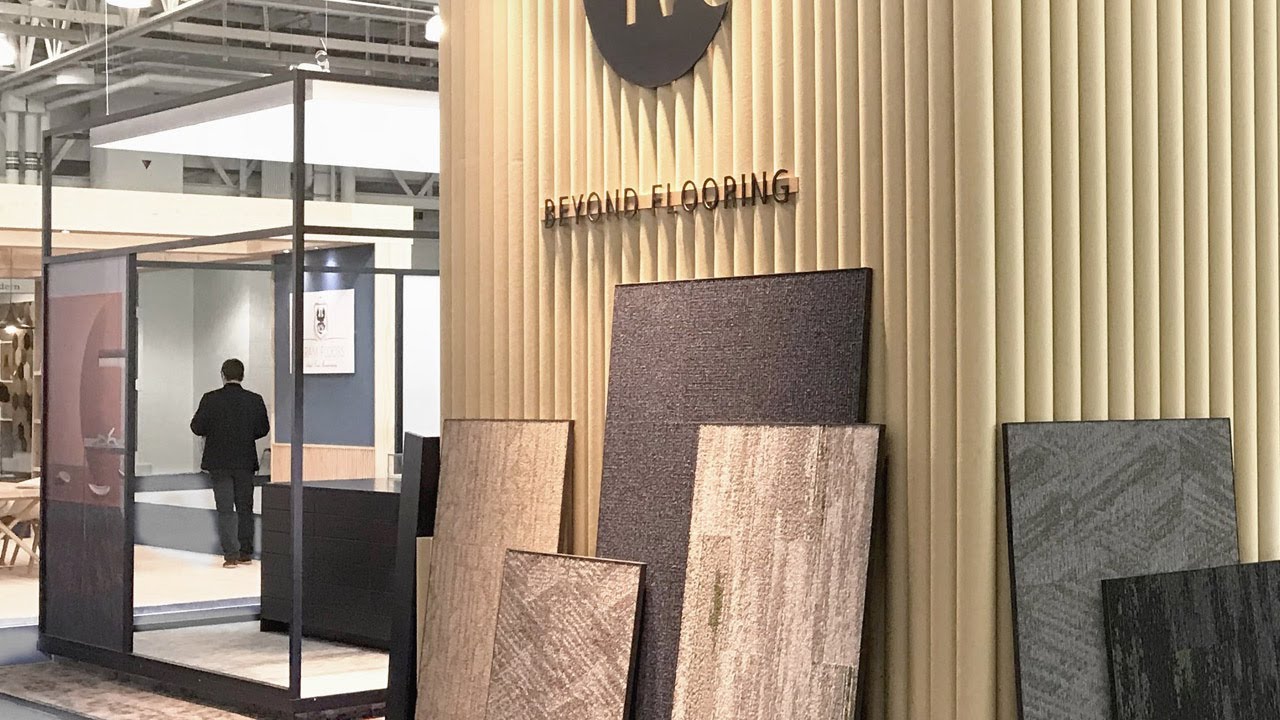 What does the IVC brand stands for?
IVC Group is internationally renowned for its Moduleo (luxury vinyl tiles), Itec (heterogenous vinyl flooring) and Xtrafloor (accessories) brands. From now on, the Belgian company will be combining these brands and its new range of carpet tiles under one powerful identity: IVC Commercial.
Watch the IVC video
Innovation floors, one layer at a time
It's about creating better solutions in smart ways to make your life easier. Indeed: innovation revolves around you.
At our Centre of Excellence, we respond to today's market needs.
Building on our R&D department's long-standing expertise and ideas inspired by other sectors, we look beyond the ordinary to find new solutions.
IVC has a solution to fit your needs
IVC for every project and every application
Vertically integrated range
With the commercial offer of the IVC brands, various project requirements can be fulfilled individually, with high quality and professionally: in corporate & office, retail, hospitality & leisure, housing, education and healthcare projects.
Carpet Tiles
Three versatile collections:
In an increasingly fragmented world, art reconnects people to one another. As a universal language and change agent, art intervenes to inspire and unite. The IVC Art Collection celebrates this power with three versatile collections: Art Intervention, Art Exposure and Art Style.
LVT
From mild to abstract, from authentic to original creations. Whether if it's wood or stone or a combination of various decors – the new LVT collections of IVC persuade with extremely realistic decors and trendy designs. The 0,40 and 0,55mm wear layers provide the required functionality. Studio Moods also offers more flexibility with its new formats:
Moduleo 40: Style meets function!
Moduleo 40 combines elegance with durability. With more than 30 in-house designed decors mimicking nature's most beautiful wood and stone looks, Moduleo 40 gives your project a welcoming feel.
Moduleo 55 Expressive: Floored by creativity!
Moduleo 55 Expressive is the ultimate blend of imagination and innovation. Its twelve looks range from natural to abstract, from authentic reproductions to original creations.
Moduleo 55 Impressive: More realistic than reality itself!
With Moduleo 55 Impressive, you welcome nature into the room. Its 35 authentic colours – the widest offer available today – depict the bounty of our planet with unprecedented precision. Wood and slate textures are brought to life by embossing the floors in register: what you see is what you feel.
Moduleo 55 Tiles: Naturally different!
Rock-solid and natural, or abstract and creative; with Moduleo 55 Tiles, the choice is yours. The collection offers 52 stone looks in different formats: some mimic stones from over the world, others inspire those who dare to be different. The result: ultimate design flexibility and creative transitions.
Moduleo 55 Woods: Firmly rooted in your project!
Moduleo 55 Woods mimics wood in its purest form, with unique combinations of colour, grain and structure in every plank. Out of 40 looks, you get to choose the style that fits your project: from subtle and classic to the luxurious or rustic – it's all there.
Studio Moods: New formats!
With Studio Moods, IVC's modular collection of luxury vinyl tiles, you can combine 10 unique shapes. Moods 2.0. adds another 4 new formats to the range to offer more flexibility and modularity.
Engineered Vinyl Floor – the product innovation:
LayRed 55 is the result of 2 years of extensive research and engineering by the IVC R&D team. It is a patented, multi-layered engineered vinyl floor, which combines strength, comfort, design & performance into one unique flooring solution.
Heterogeneous vinyl
The new heterogeneous vinyl floorings from IVC are not only convincing due to their high functionality on different levels of use, but also due to the infinite design possibilities that they offer. Depending on the needs and the concept, IVC has the perfect product.
1.
IN CONTROL FROM START TO FINISH, FROM INSPIRATION TO INSTALLATION
2.
INNOVATION THAT ADDS VALUE TO YOUR WORK
3.
VERSATILE PRODUCT SOLUTIONS FOR ALL YOUR PROJECTS
4.
UNIQUE ADVANTAGES, UNIVERSAL APPLICATIONS